Welcome
On behalf of the 2020 capital campaign team, we welcome you to the Growing Our Legacy church development campaign! Our goal is to raise $387,000 over the course of the next 3 years. These funds will be used to grow the church by 17% each year and poise us to potentially purchase property in the near future. In this campaign effort, our focus is to give God the glory, to bear much fruit and to show ourselves to be His disciples (John 15:8).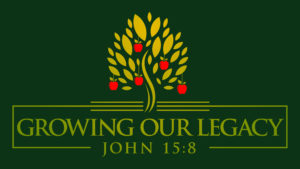 Here are a few key activities for you to prepare for:
All members are being asked to attend one of the 8 small groups going on throughout the campaign. Each group will host approximately 10-12 people and last over a 5-week period. The groups will focus on building personal commitment to doing God's will. To see what is available, see our Small Groups page!
Sign up to receive the daily devotionals via e-mail – mona@lighthouse-church.net
On Sunday, March 22nd, there will be a freewill offering for the campaign. This offering will be funds given over and above tithe or campaign pledges.
Campaign pledge cards will be collected starting March 22nd.
We will culminate the campaign and celebrate with a banquet the evening of March 29th. Please save the date; RSVP cards will be sent out shortly.
We look forward to connecting with you throughout this process and seeing God's will unfold in each and every life.
Our Team Leaders
Ben Edman – Campaign Manager 503-319-9359 ben.edman.pdx@gmail.com
Mike Blondino – Pastor 360-513-4794 m.blondino@blondinodesign.com
Monique Murray – Sunday Morning Coordinator 360-910-5848 cayannagirl@hotmail.com
Matthew Paulson – Communications Director 360-433-1819 mpaulson11@georgefox.edu
Holly Blondino – Banquet Director 360-448-1957 hblondino@hotmail.com
Judi Richardson – Prayer Coordinator 360-953-1077 judi.richardson@gmail.com
Mona Osterweil – Small Group Coordinator 360-609-2461 mona@lighthouse-church.net